Wed 26 Aug, 2009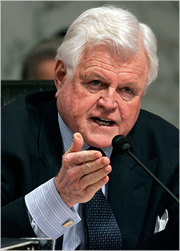 It was announced overnight that Senator Edward M. Kennedy of Massachusetts has died at the age of 77.
Much has been said about the legacy of Senator Kennedy, the "liberal lion of the Senate," and much more will be said today and in the the future. As President Obama said in a statement released during the night, during his career "virtually every major piece of legislation to advance the civil rights, health and economic well being of the American people bore his name and resulted from his efforts."
Here, I want to briefly highlight some of the ways in which Senator Kennedy has been a leading voice on civil rights for the last 45 years, repeatedly helping to redefine our understanding of the meaning of equality in areas such as race, ethnicity, national origin, gender, and disabilities.