Mon 13 Dec, 2010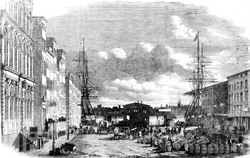 Exactly one hundred and fifty years ago, South Carolina was on the verge of seceding from the Union over the issue of slavery.
At the same time, New Yorkers were preparing to make a dramatic statement in support of the southern cause and in favor of southern slavery, which had long been the backbone of the northern economy and society. At a meeting held near Wall Street on December 15, 1860, a crowd of more than 2,000, including many of the city's most prominent citizens, would gather to voice their opposition to both civil war and abolition.
Why does the response of so many in New York, and throughout the North, to the threat of secession surprise many Americans today?
All these years later, on the eve of the sesquicentennial of the Civil War, northerners are generally portrayed as anti-slavery and eager for abolition—or else as basically opposed to slavery, but grudgingly willing to compromise in order to preserve the Union. In fact, however, the North was largely not abolitionist, and most northerners still depended on southern slavery for their livelihoods. The Civil War broke out as a result of southern fears about northern interference in the institution of slavery, and northern insistence on keeping the Union intact. It was not even remotely the moral crusade to end slavery that is often hinted at today.