Fri 7 Jan, 2011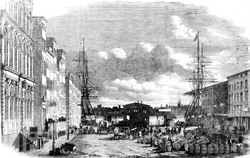 Today marks the 150th anniversary of another Civil War milestone: the proposal by Mayor Fernando Wood to the city council that New York City secede from the Union, in order to continue its relationship with the South, just as southern states were beginning to declare their secession.
I've co-authored an opinion article coming out soon describing this event, and discussing its broader significance for our understanding of the Civil War and the role that slavery and race played for the North and the South. In the meantime, I'd like to offer a quick picture of the role of slavery in New York up to the time of the Civil War, as a counterweight to the myth that the North at the outbreak of the war consisted of free states eager to abolish the scourge of southern slavery.
First, a side note: I'm currently attending the four-day American Historical Association (AHA) annual meeting in Boston, and in particular, a multi-session workshop on slavery and public memory. I plan to report back here  on some of the latest scholarship related to slavery, race, and public history, all themes directly related to this blog and my work at the Tracing Center.