Thu 19 May, 2011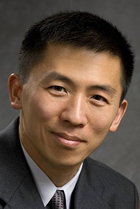 At this hour, the U.S. Senate is meeting in executive session to debate the nomination of Goodwin Liu to the Ninth Circuit Court of Appeals.
If Liu's supporters are able to muster 60 votes in favor of cloture, which is scheduled to be voted on around 2:00pm ET, this will end the threatened filibuster and result in an up-or-down vote on the nomination itself.
The situation does not look promising for Professor Liu, as three key senators who believe that filibusters should be rare—John McCain (R-Ariz.), Lindsey Graham (R-S.C.), and Johnny Isakson (R-Ga.)—have said they will vote to extend debate indefinitely, thus filibustering the nomination.
After the jump, I discuss the controversial video of Liu speaking at one of our events, and what role it does (and should) play in his nomination.