Thu 16 Oct, 2008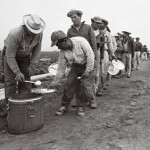 There has finally been a preliminary settlement in the case of the Mexican braceros denied wages earned as guest workers in the U.S. in World War II. Surviving workers, and heirs of the deceased, living in the U.S. will now be eligible to collect $3,500 each.
The braceros case has served for many years as a prominent example of the struggle to obtain justice for old wrongs, and there are strong parallels to the fight for reparations for slavery.
From 1942 to 1946, hundreds of thousands of Mexicans served as guest workers in the U.S., laboring on farms or as railroad workers for about 50 cents an hour. Ten percent of their wages was deducted and sent to the Mexican government, to be given to the braceros upon their return home. Many of the workers never received that money, and have been fighting for their lost wages ever since.
The settlement comes as the result of a class-action lawsuit filed in California in 2001, and the case raised several of the same legal issues as reparations for slavery. Many of the workers had been unable to read their contracts to know that they were owed wages, or were too intimidated to seek wages from the Mexican government at the time. As a result, the case was initially dismissed on the grounds that too much time had passed for a legal remedy. The lawsuit was initially filed against three defendants, the Mexican government, the U.S. government, and Wells Fargo Bank, but only the Mexican government was considered to have legal responsibility for the lost wages.
Former braceros, or their heirs, must be able to provide sufficient documentation of their eligibility.
Update: For the latest information that I have on seeking compensation for former braceros, please see this post.
73 Responses to "Mexican braceros to receive compensation"
Leave a Reply