Mon 3 Nov, 2008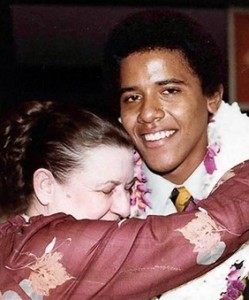 Barack Obama issued a statement a few minutes ago, saying that his grandmother, Madelyn Dunham, has died.
In the statement, issued jointly with his sister, Maya Soetoro-Ng, Senator Obama says that their grandmother died peacefully after her battle with cancer.
According to the Chicago Tribune, Mrs. Dunham passed away early this morning, at the age of 86. She was widely reported to have been following the presidential campaign closely on television from her apartment in Hawaii, where she was receiving hospice care.
While this must be a difficult time for Senator Obama to have received such news, Mrs. Dunham no doubt passed away with full knowledge that her grandson is expected to be elected the next president of the United States.
Update: At a campaign rally in North Carolina this evening, literally on the eve of the presidential election, Barack Obama is wiping away tears as he tells the crowd about his grandmother and relates her story to the aspirations of millions of Americans.
3 Responses to "Madelyn Dunham, Barack Obama's grandmother, has died"
12:10 pm, 4 November, 2008.
HNIC says:

---

Oh yea, the "typical white person" he derided in his book as being racist. Typical politician BS. We should now feel sorry for this lying empty suit of a socialist?

Barack Hussein Ombomber was taught to hate "whitey" from an early age. When he was forced to live with his white grand-mother he rejected her as being racist because she tried expunge all the black liberationists lies and propaganda from his brain to no use. Why, because the black hate mongers he was exposed to in his formative years brainwashed him into believing that anyone who otherwise contradicted their propaganda is a "racist" (A term BTW that has scientific basis what-so-ever. Their is only one race, the human race, period)

So when he comes the criminal demoncratic pit of hell in Chicago, who do think he immediately gravitates to, the very same black hate mongers and their socialist white surrogates, i.e. folks like Bill Ayres and his wife Bernadine Dorn, terrorists extraordinaire!

Barack Hussein Ombomber is a liar and a fraud. If he is elected we will be thrown back into bad old days of Jimmy Carter on steroids!!!

12:23 pm, 4 November, 2008.
James says:

---

Obama referred to his grandmother as a "typical white person" in his landmark speech on race, not in either of his books.

More importantly, he referred to her as being typically white in certain of her reactions to race, not in general.

Do you have any reason to believe that Obama was taught to hate white people when he was young, or are you just saying that? He was raised primarily by his white mother and white grandmother, and neither of them seems to have disliked white people. Obama spent his youth in Indonesia and Hawaii, where he was certainly exposed to people of many races and ethnicities, but wasn't exactly surrounded by blacks.

I agree with you that race, as our society understands that concept, has no scientific basis. It is a social construct, which emerged in our society in order to shore up the institution of slavery and which has lingered to this day.

I won't even begin to address your fanciful belief that Barack Obama is somehow a socialist. I'll simply observe that many people these days seem to think that socialism is roughly the equivalent of liberalism.

10:44 am, 5 November, 2008.
Barack Obama On Best Political Blogs » Madelyn Dunham, Barack Obama's grandmother, has died says:

---

[…] Madelyn Dunham, Barack Obama's grandmother, has died Barack Obama issued a statement a few minutes ago, saying that his grandmother, Madelyn Dunham, has died. In the statement, issued jointly with his sister, Maya Soetoro-Ng, Senator Obama says that their grandmother died peacefully after her battle with cancer. According to the Chicago Tribune, Mrs. Dunham passed away early this morning, at the age of 87. She was widely reported to have been following the presidential campaign closely on television from her apartment in Hawaii, where she was r […]
Leave a Reply