Mon 14 Dec, 2009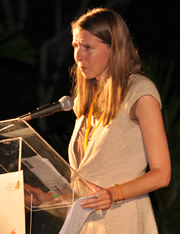 Traces of the Trade has won the best documentary award at the Bahamas International Film Festival in Nassau.
Katrina Browne, the film's director and producer (pictured), was on hand last night to accept the honor, the "Spirit of Freedom: Documentary Award."
Also winning awards at the festival were three dramatic films (in the categories of short film, narrative, and "new vision") and three-time Oscar nominee Johnny Depp (winning the festival's career achievement award). The festival featured 68 films from 26 different nations.
In 1800, the sloop Fanny, owned by James D'Wolf of the United States, arrived in the Bahamas with a cargo of 54 slaves purchased in Africa. He was my great-great-great-great-great-grandfather.
I think it is only fitting that, more than two centuries later, a descendant of the D'Wolfs came to the Bahamas to screen a documentary in which several of us acknowledge the sins of our forefathers and strive to address their legacy today.