Fri 10 Jul, 2009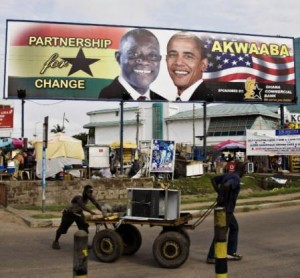 President Barack Obama is arriving today in Accra, the capital of the West African nation of Ghana.
Obama will meet with Ghana's new president, John Atta Mills, and will deliver a policy address to parliament before leaving after just one day. He has said that he chose Ghana for his African stopover in order to highlight Ghana's success as a democracy, and his policy speech is expected to focus on the importance of good governance and spending western aid, such as the $20 billion commitment to new food aid which arose of the G-8 summit in Italy, wisely and appropriately.
However, President Obama and his wife, Michelle, are also scheduled to take time during their 24-hour stay to leave Accra on Saturday and visit Cape Coast Castle, the historic slave fort featured in Traces of the Trade.