Thu 1 Apr, 2010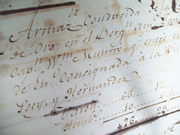 As I returned to the U.S. from Havana last night, the Associated Press released a story on our visit, "US family finds traces of slave-trade past in Cuba."
The article has been running prominently in the U.S. and abroad, making the A.P.'s daily top stories list as their third-listed international story in the world.
I spent ten days in Cuba with Katrina Browne and Tulaine Marshall, and the article focuses on our visit Sunday to the site of the Mount Hope coffee plantation owned by my fifth-great grandfather, James D'Wolf.
The article, written by the A.P.'s Will Weissert, is quite impressive, and I'm particularly pleased with the way it ends:
While both she and Perry have worked to uncover their family's role, they say no Americans – even those whose descendants came to the U.S. after slavery was abolished – should feel unaffected. The early U.S. economy so relied on slavery that it fueled a boom, making America an attractive destination for immigrants ….

"None of us," Perry said, "are untouched by the legacy of slavery today."
This family history raises a wide variety of historical and contemporary issues, but in the context of Cuba, I think it's particularly important to emphasize that the U.S. since colonial times has been tightly bound by economic and cultural ties to its neighbors in Cuba and elsewhere in the Caribbean. The U.S. owed its political and economic fortunes prior to the Civil War to its role in the transatlantic slave trade and to slavery, both domestic and foreign, and this history has played a vital role in our subsequent economic and social development.
In addition to owning slave plantations in Cuba, James D'Wolf was the leading slave trader in U.S. history, sending the majority of his slaving voyages to Havana. Our trip to Cuba, in conjunction with the visit of the schooner Amistad, included a variety of talks and other public appearances, the Cuban premiere of our documentary, Traces of the Trade: A Story from the Deep North, and conversations with scholars and archivists about further research into the history of the D'Wolfs and the U.S.-Cuban slave trade.
This blog has been on hiatus while I've traveling in Cuba, but you can see updates, photos, and videos from the trip on Facebook and Twitter.
6 Responses to "U.S. family finds traces of slave-trade past in Cuba"
Leave a Reply