Thu 8 Nov, 2012
Once again, Bob Vanderbei of Princeton has offered the nation a view of itself as the purple country that it is: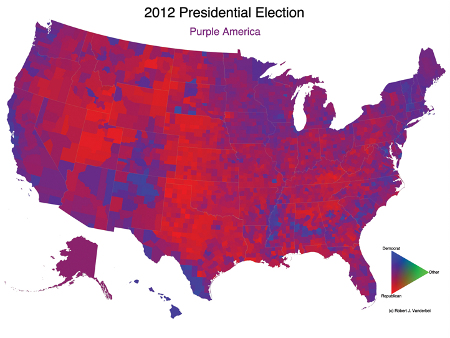 As I mentioned four years ago, this is a much more accurate and revealing look at the nation's geographic political divisions than the more conventional state-by-state, red-and-blue map. It emphasizes how politically diverse many states are, and how there are red, blue, and purple areas throughout the country.
The county-level data revealed by this map also hints at an important truth that state-by-state color-coding doesn't: that in terms of geography, our society's political leanings track closely with not only broad geographic areas, but also with coastal and inland terrain and with urban and rural settings.
4 Responses to "The United States is a purple country"
Leave a Reply