Mon 1 Mar, 2010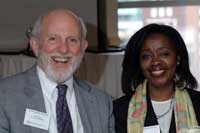 If you've watched our documentary, Traces of the Trade, then you've seen that one of the DeWolf slave-trade descendants in the film is Dain Perry.
Of the ten of us who took the journey shown in the film, Dain and I were usually closely in sync on issues involving race, much more so than either of us was with anyone else. This is particularly surprising because, although Dain is my uncle, as he explains in the film, he grew up surrounded by intense racism in the Jim Crow South, while I was raised in a progressive, racially mixed environment many years later.
Dain and his wife, my aunt Constance, now devote much of their time to showing the documentary, and leading discussions of race, at Episcopal Church and other gatherings across the United States.
I mention this now because there is a candid and thoughtful interview with Dain and Constance online as part of a visit they will be making later this month to the Episcopal Diocese of Western North Carolina. It's an honest and sensitive look at the work they do, how they view race and problems of race today, and how they engage with people who may find themselves isolated and even suspicious of people of other races.
Dain is a retired insurance agent and Constance is a consultant to community organizations.
5 Responses to "Interview with Dain and Constance Perry"
Leave a Reply