Wed 18 Feb, 2009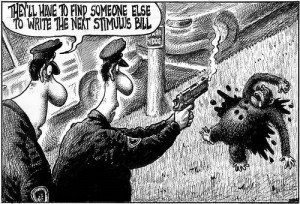 The New York Post, in its infinite wisdom, ran the cartoon shown here in today's edition.
The illustration refers to yesterday's shooting by police in Connecticut of an out-of-control chimpanzee, while the dialogue refers to President Obama's signature legislative item, the stimulus bill which he signed on the same day.
The reason that so many people are up in arms about this cartoon, and are convinced that it is racist, is because it is, quite simply, very hard to articulate a non-racist explanation for the juxtaposition of the image and the dialogue.
Even the Post can't articulate a race-neutral explanation for the cartoon, drawn by Sean Delonas. In a statement issued today, the paper's editor-in-chief explained the cartoon this way:
The cartoon is a clear parody of a current news event, to wit the shooting of a violent chimpanzee in Connecticut. It broadly mocks Washington's efforts to revive the economy.
How, exactly, does the cartoon "broadly mock" Obama's effort to revive the economy with a stimulus package, by depicting a chimpanzee shooting in the news? The Post's editor-in-chief, Col Allen, doesn't even attempt an answer.
Of course, none of this means that Delonas was, in fact, thinking in racist terms when he came up with the cartoon, or even that this cartoonist, who is frequently criticized for displaying bigotry towards one group or another, was inadvertently catering to a racist stereotype.
On balance, however, I'm inclined to think that the Rev. Al Sharpton is the calm voice of reason in this debate today:
The cartoon in today's New York Post is troubling at best given the historic racist attacks of African-Americans as being synonymous with monkeys. One has to question whether the cartoonist is making a less than casual reference to this when in the cartoon they have police saying after shooting a chimpanzee that "Now they will have to find someone else to write the stimulus bill."
Hat Tip: The Republic of T
9 Responses to "President Obama as a rampaging chimpanzee?"
Leave a Reply