Thu 29 Jan, 2009
John Bell of Ebb Pod Productions has created a map of the United States, showing the locations of selected past and future screenings of Traces of the Trade: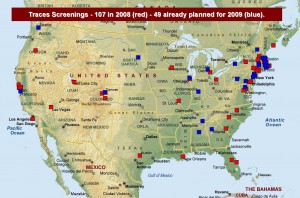 Please note that this map does not show all public screenings of the film, including a number of screenings that I've appeared at or where I'm scheduled to appear in the coming months.
For instance, I screened the film and spoke at a conference on the abolition of the slave trade in Toledo, Ohio in the fall, and I will be screening the film and speaking at an academic conference on American and popular culture in Albuquerque, N.M. in February. Neither of these appearances is included on the map, nor are other appearances in conjunction with the film, most of which are focused on the history of slavery and racial discrimination, and on current issues of racial equality, race relations and diversity.
So please don't worry that I've forgotten about having appeared in front of your group or, much worse, that I've neglected to record an upcoming appearance on my calendar and will fail to show at the appointed day and time.
Leave a Reply