Sun 2 Nov, 2008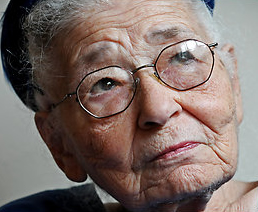 The Washington Post has a delightful story this morning about the reactions of older black citizens, particularly those in their 90s, to the possibility that Barack Obama may be elected president on Tuesday.
The article highlights the story of Ruth Worthy, who is 91 years old and grew up in a middle-class household in Boston. The daughter of a doctor, she was the first black to work at the post office in Boston and attended Bridgewater State College in Massachusetts.
In the Great Depression, Worthy taught history in a school for Negro children in Alabama, where the future Coretta Scott King was one of her students. She tells of using her relatively light skin color to ride at the front of the bus.
These days, Worthy spends time going door-to-door in her Washington, D.C. neighborhood to canvass for Barack Obama's campaign. She travels by wheelchair, or with the aid of her nurse.
Another black resident of the Washington area, Arthur Greene, is also 91. Wheelchair-bound, he rarely leaves his home anymore, and talks about living in Jim Crow Virginia, when he had to search for restaurants that didn't display a "white only" sign in the window. But the program Meals on Wheels (for which I volunteered when I lived in the area) brought him an absentee ballot along with a meal, and he was able to vote for Obama.
In what must be a common refrain among older black citizens these days, Greene observes, "I never thought it would happen in my lifetime." Greene was an exterminator, and was frequently told that he couldn't enter the homes of white customers, even to spray for vermin.
Update: The L.A. Times has a story about Gertrude Baines, a 114-year-old daughter of former slaves who was able to cast her ballot for a black man to be elected president of the United States. Voting by absentee ballot from a convalescent home, she was uncertain how to say the name of her preferred candidate, but she knew she wanted to vote for him, "because he's for the colored … Everybody's glad for colored men to be in there sometime."
Baines is considered to be the third-oldest person in the world, and the oldest person of African ancestry. Echoing a common refrain among older people about a black person being elected the nation's president, she commented, "No, I didn't never think I'd live this long."
Update: In his victory speech in Grant Park in Chicago, Senator Obama mentioned the story of Ann Nixon Cooper, a 106-year-old Atlanta resident who "was born just a generation past slavery; at a time when … someone like her couldn't vote for two reasons — because she was a woman and because of the color of her skin."
Cooper came to Obama's attention after she cast an early ballot for him in October, with the mayor of Atlanta. She, too, echoed the usual refrain about the nation's first black president: "I never thought we'd see that happen."
Leave a Reply