Mon 27 Oct, 2008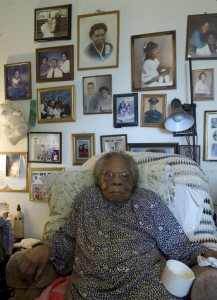 I don't think it matters which presidential candidate you believe would best lead the country. This story should move us all, and illustrates why this election is truly historic, regardless of who wins (or should win).
Amanda Jones lives in Bastrop County, Texas, and is 109 years old.
She's also the daughter of a slave, and has just cast an early vote for Barack Obama for president.
"I feel good about voting for him," Mrs. Jones said.
Her father herded sheep as a slave, and she has now lived long enough to vote for a black candidate for president.
3 Responses to "Slave's daughter votes for Obama"
11:24 pm, 23 October, 2014.
sharon Haywood says:

---

Greetings, I'm reading this story on the website and I am over amazed that someone could be that age and looks so good. I am very interested whether or not your family are aware of the Haywood family. my sister and I Maxine is trying to locate all 1,800 photos the Haywood Family. we would love to pay you for them. my sister and I will be in Bastrop November 18, 2014. we are doing the family history and we will be most grateful to you all if you could share any information you can about our family. they arrived in Bastrop on around 1820, if you can help we will be really grateful have a blessed day and thank you so much

8:44 am, 24 October, 2014.
James DeWolf Perry says:

---

Sharon, I don't have any information on the Haywood family. Perhaps someone else reading this might have a lead to offer? Otherwise, I wish you the best of luck in your search, and on your trip with your sister to Bastrop!

6:19 pm, 24 October, 2014.
sharon Haywood says:

---

Thank You for your speedy reply, your family have much to be proud of to have someone so precious around for that period Of time, I can only wish my ancestors would have been here long enough for me to make them. it was a honor and a privilege to have someone so special to have lived long enough for you to see. God bless your family and once again thank you.:-)
Leave a Reply