Wed 18 Mar, 2009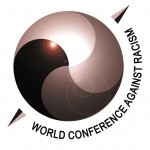 In an important development in the controversy over next month's U.N. conference on racism, negotiators have removed several controversial passages, including references to Israel, religious defamation, and reparations for slavery, from the draft conference text.
This change follows a threat by the European Union to boycott the Durban Review Conference (also known as Durban II), and it may permit the United States to participate in the conference in Geneva in April. The U.S. and other nations had earlier threatened to boycott the conference if there were not changes to these passages in the document, while Canada and Israel had already announced that they were not attending because of the specific references to Israel and the Palestinian territories.
The draft text, which still must be reviewed by regional groups, is not yet public. So it is not clear, for instance, whether the shortened text drops all references to reparations for slavery, or whether it merely reverts to the milder language adopted at Durban in 2001. That language, which the U.S. said weeks ago that it was willing to accept, acknowledged the history of slavery, particularly the transatlantic slave trade, and suggested that reparations for slavery are appropriate, while stopping short of actually calling on nations to offer reparations.