Sun 30 Aug, 2009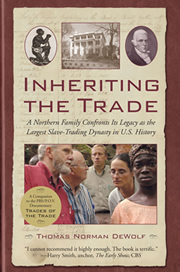 Regular readers of this blog know that my distant cousin, Tom DeWolf, has written a book about our slave-trading ancestors, the D'Wolf family of Bristol, Rhode Island, and our journey to explore the legacy of their slave trading today.
Tom has now embarked on a "virtual book tour," an innovative way to interact with readers and to expose others to the book, by traveling across the Internet. Denizens of the 'net will have the chance to win a copy of Inheriting the Trade in paperback or .mp3 audio, as well as to chat with Tom and to read new author essays and interviews.
The first stop on the book tour runs through Monday, other stops begin on other web sites this week, and the full schedule of stops on the tour run for the next month. Check it out here.
Tom's book is entitled Inheriting the Trade: A Northern Family Confronts Its Legacy as the Largest Slave-Trading Dynasty in U.S. History. In it, he shares his thoughts and experiences as ten of us retrace the route of our ancestors across the "triangle trade," and explore that history and its enduring impact on our own society. Our experience also resulted the Emmy-nominated PBS documentary, Trade of the Trade: A Story from the Deep North.
Leave a Reply