Mon 23 Mar, 2009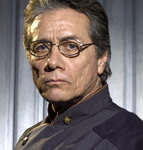 [Update: I've been reposting this inspirational video once a year, and I talk about the implications of what Olmos says here and especially here. If you want to read about his views or comment on them (and please do!), just follow one or both links.]
The United Nations hosted a panel on Tuesday about the television series Battlestar Galactica, covering such real-world themes as terrorism, human rights, religious conflict, and children in wartime.
The panel was moderated by Oscar-winning actress Whoopi Goldberg, and featured Oscar-nominated and Emmy-winning Battlestar Galactica cast members Edward James Olmos (Admiral William Adama) and Mary McDonnell (President Laura Roslin), as well as executive producers Ronald D. Moore (of Star Trek fame) and David Eick.
What, exactly, did this panel have to do with race?
There are, of course, a variety of interconnections between race and the humanitarian issues addressed by the panel. However, one of the participants raised directly the subject of race as a social construct and an outmoded category of thought, and I think his remarks are worth attention.
Here is what Edward James Olmos, one of the nation's most prominent Latino actors, had to say about race as an outdated historical fiction:
I still find it incredible that we still use the term race as a cultural determinant. To this day—you should have never invited me here because I detest what we've done to ourselves out of a need to make ourselves different from one another—we've made the word race a way of expressing culture.

There's no such thing and all you high school students bless your heart for being here. You are a hundred champions right now that are going to go out understanding this. The adults in the room will never understand it. Even though they'll nod their heads and say you're right they'll never be able to stop using the word race as a cultural determinant.

I just heard one of the most prolific statements done by one of the great humanitarians. He's really trying to organize and bring us all together and he used the word race as if there is a Latino race, an Asian race, Indigenous race, Caucasian race or a Latino race.

There is no such thing as a Latino race, there never has been, there never has been. There never will be. There is only one race and that is what the show brought out. That is the human race period.

Now the pressure comes, why did we start to use the word race as a cultural determinant? The truth is that over six hundred years ago the Caucasian race decided to use it as a cultural determinant so it would be easier for them to kill another culture. That was the total understanding, to kill one culture from another culture. You couldn't kill your own race so you had to make them the "other" and you to this day—I've spent thirty-seven years of my adult life trying to get this word out and now I am done and well prepared as the admiral of the Battlestar Galactica to say it to all of you—there is but one race. That is it.

So say we all. So say we all. So say we all.
The panel also included, from the U.N., Radhika Coomaraswamy, Special Representative of the Secretary-General for Children and Armed Conflict; Craig Mokhiber, Office of the High Commissioner for Human Rights; Robert Orr, Assistant Secretary-General for Policy Planning; and Famatta Rose Osode, Permanent Mission of Liberia to the U.N.
Hat tip: Womanist Musings
35 Responses to "Edward James Olmos, Battlestar Galactica, the U.N., and race"
Leave a Reply