Tue 10 Feb, 2009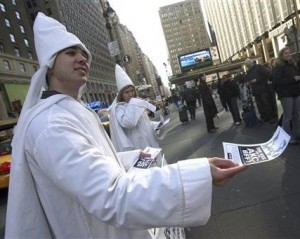 The latest animal-rights campaign by People for the Ethical Treatment of Animals (PETA) involves PETA members dressed as the Ku Klux Klan to dramatize the abuse of animals through breeding for profit.
PETA was demonstrating outside the Westminster Kennel Club's dog show in Madison Square Garden, in a protest against the American Kennel Club (AKC), which PETA accuses of promoting the pure-breeding of dogs to the detriment of their health.
PETA has a long history of sensational and controversial publicity campaigns to draw attention to the plight of animals, which frequently bring charges of sexism, racism, or poor taste. In a 2005 campaign, for instance, PETA contrasted images of lynched black men with pictures of dead cows and asked, "Are Animals the New Slaves?"
Macon D, at Stuff White People Do, argues that "the implicit, boneheaded comparison that PETA makes here is that of KKK victims, primarily black people, to dogs," and that PETA is "trivializing the threat that the KKK has represented to non-white people, and black people especially, by comparing that threat to animal abuse."
Renee, at Womanist Musings, goes further:
The amount of insensitivity it takes to dress up like the KKK and attempt to draw a link between the breeding of animals to the terror that blacks have lived with for generations can only be described as the audacity of whiteness.
She goes on, describing PETA as
an organization that is built on nothing other than hatred. Their actions reveal a hatred of POC, women, and transgender people.

I believe in preventing cruelty against animals but not at the cost of dehumanizing the weakest members of society. Each one of these little campaigns that PETA runs does more harm to their cause than good. When people think of animal rights they think of PETA and immediately get turned off. Who wants to associate themselves with a movement that continually creates the vulnerable as "other." What this campaign tells me, is that to PETA I am less than a dog.
Has PETA intolerably crossed a line, by comparing the abuse of animals to the terror and violence suffered by blacks at the hands of the KKK? Does this amount to comparing blacks to dogs, or trivializing the threat historically posed to blacks by the KKK? Is this a manifestation of white privilege, in which PETA is abusing the weakest (human) members of our society, and using the notion of blacks as "other," in order to further their cause?
Or do all of these arguments depend on the assumption that human beings are inherently worth more than other animals?
30 Responses to "PETA uses white supremacy for animal rights"
Leave a Reply