Wed 18 Feb, 2009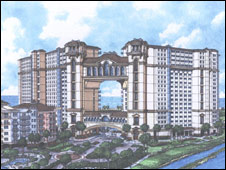 In a truly bizarre development, the BBC is reporting that a planned $3.4 billion  "slavery memorial and luxury resort" is scheduled to be built in the former slave port of Badagry, on the Gulf of Guinea in what is now Nigeria.
Evidently the developers want to tap into the multi-billion dollar business of catering to Americans interested in exploring their African heritage.
Currently, these tourists travel primarily to such destinations as Ghana's historic slave forts, but investors hope to lure millions of tourists with the Badagry Historical Resort's winning combination of luxury accommodations, a theme park dedicated to the history of the transatlantic slave trade, and a museum dedicated to the music of the  Jackson Five.
According to the BBC:
Visitors will be able to see the route their ancestors walked, shackled together as they were whipped toward the "point of no return".

They can then retire to their five-star hotel to drink cocktails by the pool.

Visitors will be able to pay their respects at the site of a mass grave for those who died before boarding ships across the Atlantic Ocean.

And then travel a few yards in a buggy to play a round of golf.
According to a representative of the project, the plan to involve the Jackson Five came when Marlon Jackson, brother of music superstar Michael Jackson, visited Badagry:
It's such an emotional place, and I think we all felt that it was the right place to have the Jackson family memorial.
Hat tip: Hate On Me
Leave a Reply